Opportunity knocks!  A grant program designed to protect habitat for waterfowl and other wildlife species has been awarded a one million dollar matching grant to fund land acquisition in and around the Bagaduce watershed, a natural system of statewide significance that compasses a large portion of Blue Hill Heritage Trust's service area.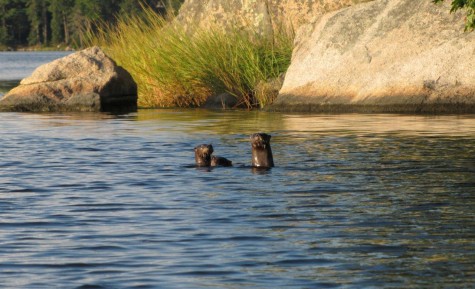 The award was made by the North American Wetlands Conservation Act (NAWCA) program, a competitive federal program that funds wetland conservation projects throughout theUnited States, based on a proposal developed by a partnership that included our land trust, Maine Coast Heritage Trust (MCHT) and several other partners. MCHT, the named grant recipient, will administer the grant and will work with us to implement it over the next two years.
 "This is an unusual opportunity at a time when funding for land conservation is tight', says Ciona Ulbrich of MCHT, the primary author of the proposal. " This is one of only 23 projects funded this year by NAWCA nationwide."
The Bagaduce River watershed, at the center of the project area defined by the grant, is an estuarine system whose tidal mainstem runs from the outlet of Walker Pond in Sedgwick to the Penobscot River at Castine, but which also includes a series of freshwater tributaries, ponds and associated wetlands that have high value habitat for wildlife, including a variety of waterfowl species, wading birds, eagles, ospreys, shorebirds, alewives, otters, seals and horseshoe crabs. As one of the most productive estuaries in the state, it has been recognized by the State of Maine as a "focus area of statewide ecological significance."
The grant requires that the funds be used to acquire ownership or conservation easements on a series of properties within the project area that have high value wetlands. It also requires that partners secure 'matching value,' in cash, land, or conservation easement gifts within the project area, equal to one and a half times the grant award. Some of that match can and will be met by recent or pending land projects undertaken by the partners.
"This award is additional confirmation of the natural values of the Bagaduce and its environs", says Jim Dow, BHHT's Executive Director. "It highlights the importance of working to protect what makes it so special – and gives us a financial tool to advance that work."
For more photos of the Bagaduce, see the work of
Ann Flewelling
in her new book
A Moment of Water
, available for viewing 
here
.