Art work by Kristy Cunnane, 2020
A Steward's Almanac: A Year of Caring for the Land, 2021
Blue Hill Heritage Trust is excited to announce this new program series for 2021! Offering monthly 2 hour hands-on workshops* to learn stewardship skills relevant to your backyard and beyond, you can register for one or for them all though space will be limited. We have an incredible cast of workshop leaders who will share their knowledge and help us all become better caretakers of the place we call home.
*In response to covid-19, workshops will be a combination of video recordings and zoom Q and A sessions. As soon as we are able, we will return to the original workshop format of outdoors and hands-on!
Registration may vary each month depending on whether we host virtual or in person workshops. Please check each month's workshop to learn how to sign up. Workshops will be open for registration one month in advance. Dates will be announced as they approach.
Monthly Workshops 
JANUARY:  "Backyard Forest Management" with Sandy Walczyk, Blue Hill Heritage Trust
Description: This workshop will introduce you to the trees in your own backyard, and give you some ideas for how you might learn about, manage and enjoy them.  We will look at winter tree identification for some common Maine trees, practice measuring tree diameters and heights, and talk about forest ecology and development.  We will go over forest products and other ecosystem services, and talk about how and why people harvest wood and other forest resources.  We will also talk about how wildlife use our forests, the basics of firewood harvesting and use, and whatever other questions you have about trees and forest management in your backyard or woodlot.     Video Recording: Backyard Forest Management 
Zoom Link for Q and A Session with Sandy Jan 26th 5-6pm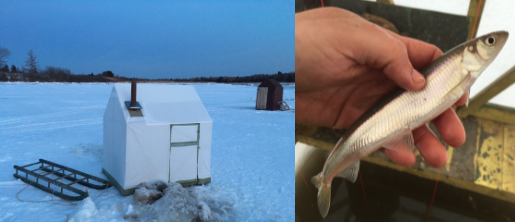 FEBRUARY: "Winter Smelt Fishing" with Brett Ciccotelli, Downeast Salmon Federation
Description: Join us for a Q and A to ask Brett and Sarah Madronal from Downeast Salmon Federation your questions about all things SMELT! Natural history, climate change resilience, fishing tips, citizen science opportunities and more!     Video Recording
Zoom Link for Q and A Session  with Brett and Sarah Feb 23rd 5-6pm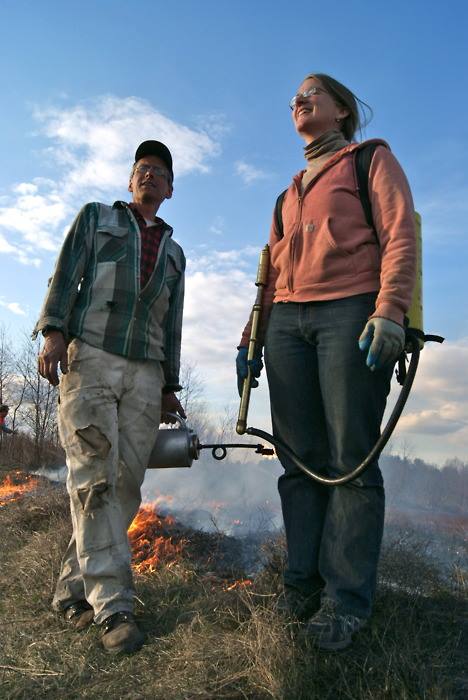 MARCH: "Caring for the Wild Blueberries" with Nicolas Lindholm and Ruthie Fiske, Blue Hill Berries
This is an IN PERSON EVENT! email landere@bluehillheritagetrust.org to sign up! We will be capping attendance at 10 people due to covid.
Description: Ruth Fiske and Nicolas Lindholm will share their knowledge about maintaining blueberry fields for cultivation whether this is a small patch in your backyard or a large field. They will present on the importance and significance of the ecosystem within a healthy wild blueberry field, including plant species identification, creating native pollinator habitat, and the philosophical perspective of organic wild blueberry growing. Organic management techniques will also be highlighted during this workshop, including regular pruning (mowing or burning), cutting or pulling "weeds" (and what plants are troublesome and which plants can be tolerated or even welcome), using sulfur to keep soil pH low (acidic), and more.
They have been growing organic wild blueberries since 1996, starting with their own farm in Penobscot. They now manage Blue Hill Berry Co., which leases and owns about 50 acres of certified organic wild blueberry land across seven fields in four towns in the Blue Hill area. In 2020, Nicolas was appointed to serve as the first-ever organic grower on Maine's Wild Blueberry Commission.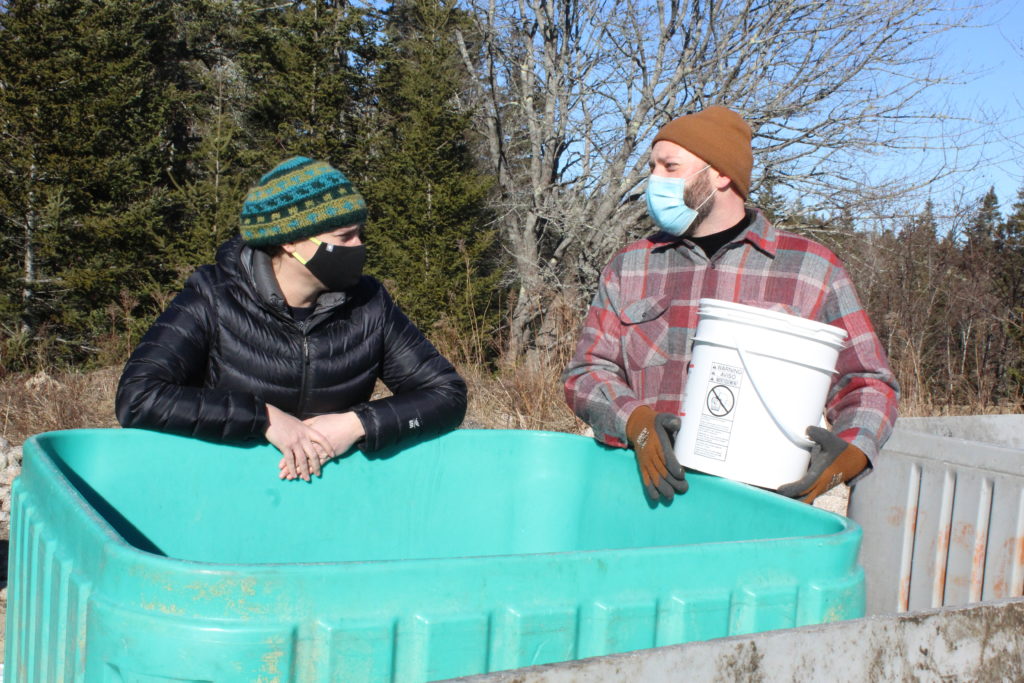 APRIL: "Composting for Community" with Kate Tompkins and Matthew Carter, Chickadee Compost
This is an IN PERSON EVENT! email landere@bluehillheritagetrust.org to sign up! We will be capping attendance at 10 people due to covid.
Description: Chickadee Compost is a new community composting company based on the Blue Hill peninsula and Deer Isle. Located currently operating a solar-powered aerated static pile compost system at the Stonington Transfer Station, they will be sharing their experience building this system, and their plans for expansion. Issues around food waste and the potential for compost to improve local soils, reduce local methane and carbon emissions, and the potential to divert up to 30% of "waste" from the local solid waste stream will be discussed. Please wear boots!
Kate Tomkins grew up in Brooksville, spent 15 years working overseas in humanitarian relief and then on hunger relief in the US, and returned to the area with her family in 2018. She is passionate about community climate action, and is a member of Blue Hill Heritage Trust's board of directors. 
Matthew Carter grew up in the California desert and after a decade in restaurants, came to intern at Yellow Birch Farm in Deer Isle in 2017. He enjoys working with food throughout its lifecycle, from seedling to dinner and back into soil. He is now a Community Compost Coordinator!
MAY: "Strategies for Improving your Soil" with Cathy Rees and Avy Claire, Native Gardens of Blue Hill
This is an IN PERSON EVENT! email landere@bluehillheritagetrust.org to sign up! We will be capping attendance at 10 people due to covid.
Description:  In this workshop we will cover topics related to using readily available materials on your site to restore or improve your soils. We will demonstrate strategies such as managing brush and leaves, creating habitat berms, using soil building plants, and applying compost tea. Participants will understand more deeply the way that nature recycles nutrients, and be equipped to improve soils at home.
Cathy Rees has worked for more than 25 years creating and maintaining gardens. She has also been doing ecological consulting for parks, forests, land trusts, and private individuals during that time. Her familiarization with the native flora has inspired the creative use of natives in the garden and led her to cofound Native Gardens of Blue Hill in 2015.
 Avy Claire has been designing and maintaining garden landscapes for the past 30 years. Her practice is built upon an understanding that gardening is a collaboration with nature, an understanding she shares with her clients and the many young gardeners she has employed and trained.  In 2015 she co-founded Native Gardens of Blue Hill to promote the use of native plants and ecological garden practices in designed landscapes to the larger community. 
JUNE:   "Sustainable Foraging & DIY Herbal Remedy Making" with Brighid Doherty, Solidago School of Herbalism
This is an IN PERSON EVENT! email landere@bluehillheritagetrust.org to sign up! We will be capping attendance at 10 people due to covid.
JULY:  "Intertidal Creatures as Food and Habitat" with Jessica Muhlin and Sarah O'Malley from Maine Maritime Academy
AUGUST: "Creating an Edible Forest" with Hannah and Colby from Way of the Earth School
SEPTEMBER: "Seed Saving Basics"  with Betsy Samuelson, Community Seed Network
OCTOBER: "Ethical Hunting Practices" with Penny and Harold Hatch, Local Sportsmen
NOVEMBER: "Cranberry Dreaming: Bringing Back a Constructed Cranberry Bog for Productivity and Ecological Function"  with Kipp Quinby, Red Bog
DECEMBER: "Pollarding and Coppicing" with Hannah and Colby from Way of the Earth School