Forest Days is a year long environmental education program and mentorship program for local schools. Landere works weekly with a class for the school year helping them establish a forest days outdoor classroom site and routine. A starter kit is provided at the end of the first year for the teacher to continue Forest Days with their class and integrate it into their curriculum in years to come. The second year, Landere is available to join monthly to provide a guest lesson. Emergent and inquiry based learning is utilized and can be connected to grade level standards at the teachers request. Building a relationship with the natural world, learning stewardship skills, and taking care of oneself outdoors in changing weather are at the heart of this approach. Play, exploration, and movement are also encouraged.
Snippets from 2022 Social media posts:
September 28th:
Sedgwick School pre-K and their teacher Mrs. Haskell are doing Forest Days this year with BHHT which involves weekly programming, curriculum supplementation, and mentorship. The children are settling into our outdoor classroom behind the school. Among many activities both spontaneous and initiated we have built mouse houses while learning about animal habitat, collected natural treasures for a nature museum, made pine needle tea, listened to stories about the natural world, sang songs, and played games. We have even adopted a baby oak tree to give our leftover water to at tea time. The four directions create our "walls" or boundaries and the barred owl call lets the children know to come back to home base after exploring. Climbing, balancing, and running are favorite activities as well! And look at those nice yellow rain pants! These children are prepared for any weather! 
Oct 25th:
We've been learning about life under logs, discovering red backed salamanders, slug eggs, springtails, spiders, fungus, lichen, and more. Logs are great for balancing, sitting, and deconstructing/learning!
Forest Days sessions are connected to the classroom theme of the week. One Friday we learned about apples and wildlife, and had apple snacks with our pine needle tea. This lesson extended to all sorts of local food for wildlife and a mystery game. We also integrate "fun" math in different ways and recently we made leaf patterns.
Each time our Outreach Coordinator,

Landere

leaves a picture book related to our theme for classroom learning. Last week it was Hank's Big Day by Even Kulhman – a book to cultivate empathy with insects and this week it is The Haunted Stump by Phoebe Wahl!
Nov 8th:
Forest Days continues with studies about seeds including milkweed, aster, sumac, and others! Students made sumac lemonade and sumac necklaces, and lots of seed balls to disperse around the school grounds to encourage more pollinator habitat. Woodpeckers have become a theme, and seeing and hearing a Pileated the last time we were in the forest was a huge hit! We have learned how much they do for the forest ecosystem by creating holes in standing dead trees that other creatures use as nurseries, pantries, and homes. The mud kitchen continues to be loved by the children as well as a bouncy log they have found on the nature trail. We had a special guest, Nina Milliken, join us two weeks ago, which was so much fun! Thank you, Nina, for joining us in the forest!
Read Blog Posts about Forest Days
Place-Based Storytelling Resources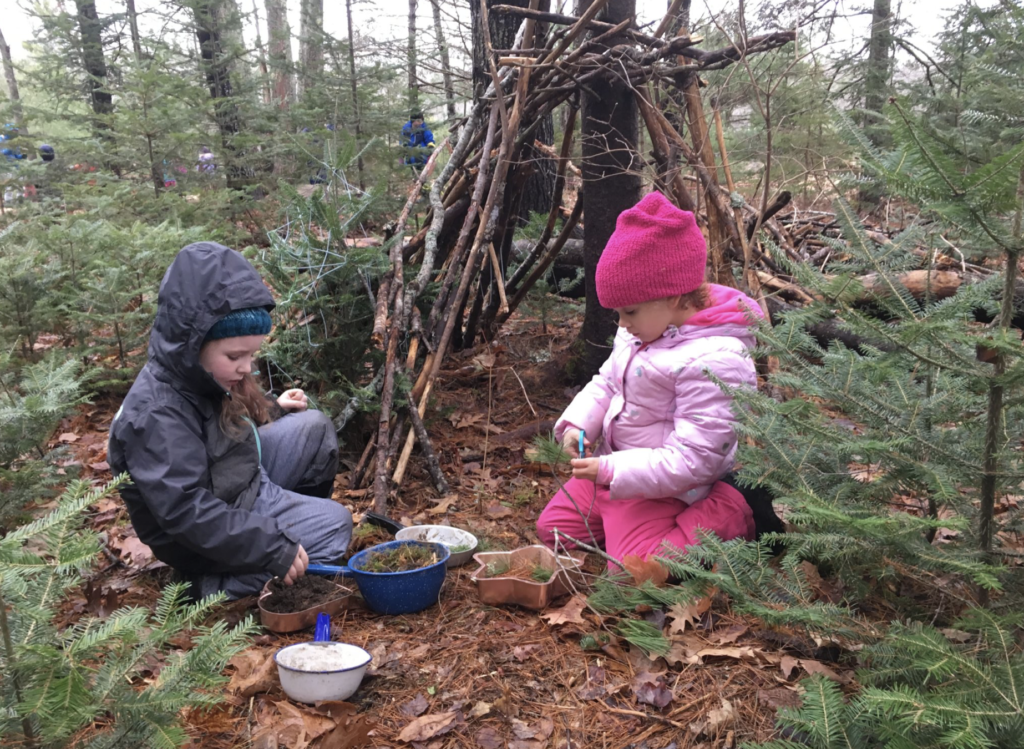 OTHER RESOURCES to Check out: