Hundred Acre Wood
Named after the famed woods that are home to A. A. Milne's Winnie-the-Pooh characters, the Hundred Acre Wood is the first hiking trail the Trust has designed and constructed in the town of Brooklin.  The 1.7 mile trail was constructed during the summer of 2013 by BHHT trail manager Ken Burgess with the help of the Trust's volunteer crew and the Brooklin Youth Corps.
Trail Map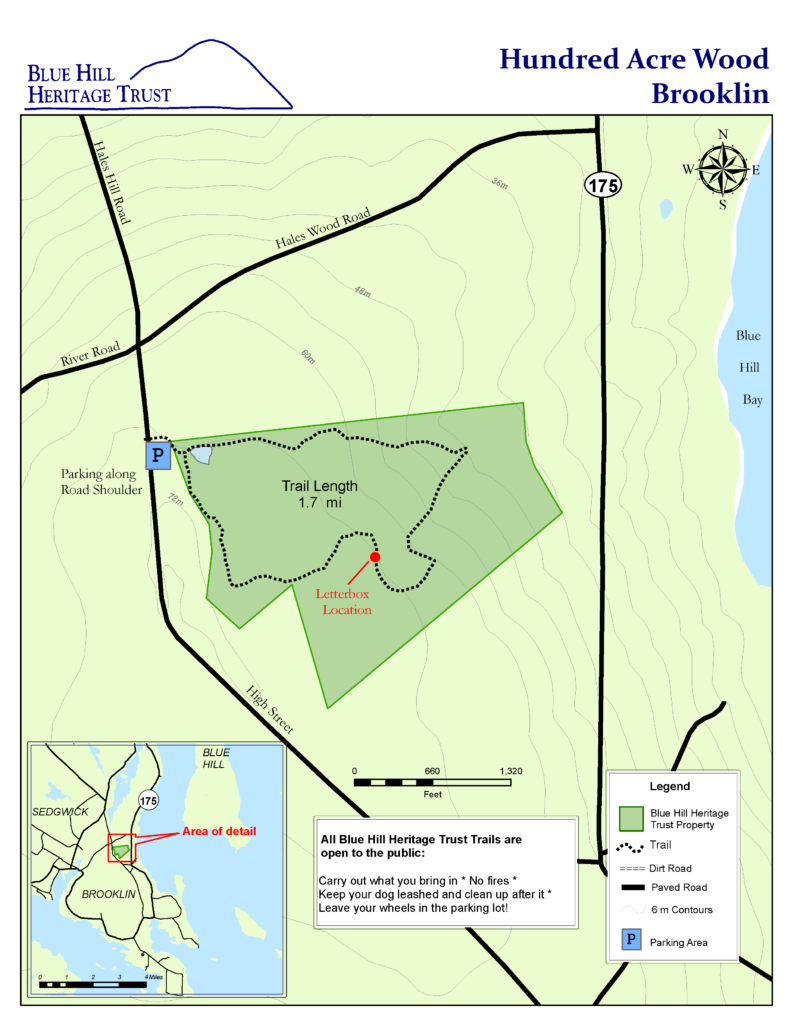 Click Here to Download the Trail Map (PDF)
Location and Parking
Hundred Acre Wood (Brooklin): The Hundred Acre Wood trailhead is located on High Street, 0.1 miles from the "four corners" intersection with Hales Wood Road, River Road, and Hales Hill Road.  The parking lot is able to fit a few vehicles.  This trail is available to the public because of a generous gift of land by the Stephen Winthrop and M. Jane Williamson family.
Use Guidelines
Please stay on marked trails.
Carry out what you take in.
Fires are not permitted.
Dogs must be leashed.
Foot traffic only.
**Citizen Science Opportunity! Hundred Acre Wood is a part of the Downeast Phenology Trail, a research project with the Schoodic Institute. To participate in this fun Citizen Science project through the Nature's Notebook App which can be downloaded onto your smartphone or device. Please click here for instructions: Nature's Notebook Instructions.