Here are a few of our exciting accomplishments!
Bluff Head, Sedgwick
Bluff Head, a dramatic headland along the main stem of the Bagaduce River, was conserved in Summer 2013. This 58 acre parcel located in Sedgwick was purchased by our Trust from its long-time owner as part of our Bagaduce River Watershed Partnership Project with funds awarded to the project by the North American Wetland Conservation Act (NAWCA ) program.  Viewed from the water, Bluff Head presents itself as a striking 90+ foot wall of rock at the place where the river takes a major bend to the south. From the land, atop this wall of rock, the view out over the Bagaduce River is beautiful and expansive. With the hard work of summer interns and other trail volunteers, a delightful new trail has been constructed that takes hikers to the top of the bluff so you can see the Bagaduce River from the north to the south!
Penobscot:
4 parcels on Wight's Pond
Thanks to a generous and conservation-minded landowner, Mitchell Baum, 24 acres of shorefront property on Wight pond in Penobscot will retain its value as both wildlife habitat and as a scenic resource. This conservation easement donated to our Trust in early August will prevent future development of the land yet allow it to remain in private ownership.
This gift had a triple conservation effect. It conserved a key parcel of land within our Wight Pond focus area that was also a key parcel in our Bagaduce Watershed Partnership Project.  It provided essential matching value for the North American Wetland Conservation Act grant that is funding conservation purchases in the watershed. It freed up funds from that grant for the purchase of the Bluff Head property (see above).
The newly conserved land, the shorefront portion of a larger parcel that was once a family farmstead, includes two hayfields with stands of oak trees along the waterfront that make the land unusually scenic when viewed from the waters of the pond. It also includes a stream and the western end of a stretch of wetlands that are especially important for waterfowl and wading birds as well as other wildlife. (This wetland area reaches eastward to a property acquired by our Trust in 2011 and an abutting property protected by another donated conservation easement.)
Looking north up McCaslin Stream from the Owens property in Penobscot, another Bagaduce watershed project we completed in 2013.

View from the Connard property in Penobscot, another parcel conserved as part of our Bagaduce River Watershed Partnership Project.
Meadow Brook, Brooksville
Donated by Oliver and Katheen Carr in Summer 2013, this approx. 100 acre parcel of new conservation land in Brooksville includes extensive frontage and associated wetlands on one of the Bagaduce River's major tributaries as well as many acres of upland forest.
The land is part of  the largest freshwater wetland complex on the Blue Hill Peninsula, one that extends for more than four miles from a small pond just north of the Buck Harbor Road in South Brooksville along a stream to a second remote pond and then  along another stream to the Bagaduce. The ponds and wetlands in this complex support a diversity of plant and animals. Fish, waterfowl, beavers, otters, muskrats. herons, osprey, swallows flycatchers and a host of invertebrates and aquatic plants inhabit the ponds and marshes, while woodcock, grouse, voles and other small mammals, deer  and songbirds use the scrubby and wooded upland habitats. Because this area is a haven for wildlife and forms a significant part of the Bagaduce River drainage, it was identified as a potential conservation focus area in a planning report that was completed for us in 2009.
Surry:
Morgan Bay
A gift of a small parcel of land on Cross Road in Surry has had a big impact on our nearby trail offerings. Thanks to the generosity of Ruth and Max Brenninkmeyer, long-time Trust members, we could finally create a safe parking area for visitors to our Furth Wildlife Sanctuary and Talalay Nature Sanctuary properties on this donated 4 acre parcel located just opposite the existing trailhead. It will also serve as a trailhead for a new trail to our shorefront Carter Nature Preserve, allowing visitors the choice of a "loop" walk rather than an "out and back" walking experience. Thanks to a grant from the Fields Pond Foundation, we were able to construct a spacious parking area. With the help of summer interns and trail volunteers, we just completed the new connecting trail in the summer of 2016!
Patten Stream
A thirteen acre parcel in Surry with 1,400 feet of frontage on Patten Stream now joins our nearby Patten Stream Preserve as conservation land. Our Trust completed the purchase of this land in late October 2013 from a family that had owned it for decades and who were pleased that we were able to acquire it.
Patten Stream is a three-mile watercourse that flows from Lower Patten Pond and empties into Patten Bay. It is a stream ecosystem rich with wildlife, including trout and alewives, and the lands along it serve as a wildlife travel corridor. The lower section of the stream near Surry village was identified as a potential conservation focus area in a planning report that we commissioned several years ago because of its ecological values as well as its potential educational and recreational values.
Wallamatogus Focus Area: Great Heath Project
Wallamatogus Mountain is the second-tallest ridge top on the Blue Hill Peninsula, located at the core of an 11,000 acre unfragmented natural area. In 2010, we completed the acquisition of a large parcel of land that includes the northern and eastern slopes of Wallamatogus. In July, we closed on an adjacent 273 acres that includes most of the Great Heath, the largest and most remote peatland on our Peninsula. Primary project funding was provided by the Maine Natural Resource Conservation Program, with additional funding from the North American Wetlands Conservation Act Program and private donors.
The wetland values on this property are outstanding. The Great Heath is a large, intact peatland ecosystem comprised of a mosaic of wetland communities that host a variety of plant and animal species. It is a significant natural feature and freshwater source in the Bagaduce River watershed, an estuarine system of statewide significance.
This property includes habitat for inland wading birds and waterfowl designated as 'high-value wildlife habitat' by the Maine Department of Inland Fisheries and Wildlife. Many of the wetland types have been identified as decreasing and of high priority for protection by the U.S. Fish and Wildlife Service. The Maine Natural Area Program has also identified the Great Heath as worthy of conservation protection in a regional landscape analysis.
It addition to its wetland values, this parcel also includes a large area of upland forest on its eastern side that provides a buffer for the wetland and additional wildlife habitat. This upland complements the upland buffer provided by the parcel we previously purchased on the western side of the Heath. These upland areas provide us the opportunity to offer areas for low-impact recreation.
Our efforts to protect Wallamatogus flow from a conservation planning report prepared for us by a prominent independent conservation planner in 2009. This report identified a series of 'conservation focus areas' on the Blue Hill Peninsula that are worthy of conservation because they encompass one or more intact landscapes and include a concentration of important conservation values. We are using the report to help guide our new land project work. The Wallamatogus area is one of these conservation focus areas.
Jed Island, at the mouth of Morgan Bay, is now conservation land, and will remain available as productive habitat for eagles, seals, and other wildlife and as a place where people can enjoy a strikingly beautiful island experience. Our partnership with Maine Coast Heritage Trust (MCHT) to raise the necessary funding to purchase the island and to ensure its future stewardship has been successfully completed. MCHT, which specializes in island conservation, will hold title to the island. Our Trust will assist MCHT with the future stewardship of this island gem. THANK YOU to the many local residents who contributed to this project.
Jed Island is a forested 14-acre island with an easily accessible shoreline. The Island has a long tradition of local recreational use by boaters. It also has important wildlife values. The Maine Department of Inland Fisheries and Wildlife has identified the island as a bald eagle nesting site and the waters and ledges around surrounding it as coastal wading bird and waterfowl habitat. Nearby ledges also host a large harbor seal population.
Scenic Protection: Beautiful Views of Union Bay and Acadia
A new conservation easement gift extends the protection of the scenic views enjoyed by the public from the Newbury Neck Road in Surry.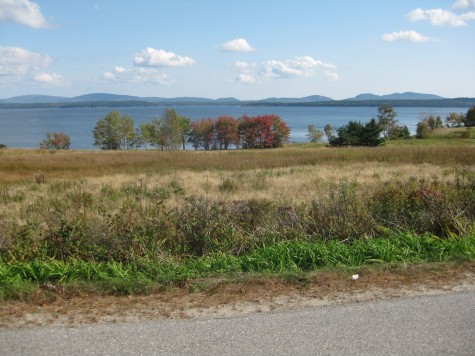 The easement prevents future development on nine acres of blueberry fields that run from the public road to the shore of Union Bay, providing easterly views over the water to the mountains of Acadia National Park. The land abuts other fields to the north that have been previously protected by conservation easements donated to our Trust by Marshall and Peggy Smith. Together the easements on these lands will ensure that the continuing development of the shorefront land along the Newbury Neck Road will not erase the public's opportunity to benefit from the beautiful and inspiring views that it has long offered those who ride, bike, run and walk there.
We are grateful to the trustees of the William H. Shafer Trust for their decision to join their neighbors in protecting this scenic resource.
A Gift of Land in Brooksville: Shore Frontage, Tidal Wetlands, High-Quality Habitat
Small can be good.  With conservation land, it just depends on its location.  A recent gift of a small parcel of land in Brooksville proves the point.
This four-acre parcel, with rugged rock outcroppings, towering trees, and nearly 1,000 feet of tidal shore frontage, is located on a small cove that forms part of a larger waterbody known as Horseshoe Cove. The cove provides high-quality waterfowl and shore bird habitat.
Although a parcel this small might have questionable conservation value if it were isolated from other conservation land, this parcel faces land across the cove protected by a conservation easement and is near our Bell's Farm Preserve. It is also located near our John B. Mountain Preserve and, with the cooperation of an abutting landowner, may provide us the opportunity to create a new walking trail from John B. Mountain to the shore that would allow the public to enjoy the quiet beauty of this place.
The land was originally part of a small subdivision, but Brooksville's shoreland zoning ordinance identified the land as resource protection and thus prevented its development. The owner, looking for an appropriate new owner for the land, contacted us. We were grateful for that call.
Because it includes tidal wetland and provides waterfowl habitat, this gift has an additional value— it may serve as a portion of the match required by the NAWCA grant describe elsewhere in this newsletter, thereby leveraging the protection of other wetland habitat.
New Walking Trail from John B. Mountain
We are grateful to the Davis Family of Brooksville for their gift of a trail easement in late 2012.  This easement will allow the Trust to construct a new trail to our John B. Mountain property by connecting two recently conserved parcels, one along Horseshoe Cove and the other near the mountain.
Hundred Acre Wood in Brooklin
BHHT closed out the year with a gift of a 113-acre parcel of land in North Brooklin.  The land was donated by Stephen Winthrop and M. Jane Williamson, summer residents of Brooklin, where Winthrop's family has owned a home for 90 years. It is mostly forested, with a diversity of tree species, and includes small streams, wetland, blueberry ground, and an assortment of ledge outcroppings near the town's highest point.
"When we sold our house in North Brooklin 12 years ago, we kept the land behind the house because we had fallen in love with its trails and varied habitat," said Winthrop. "We couldn't stand the idea of it being chopped up for house lots.  Now we have the peace of mind that the land will be protected forever, and that the public will now enjoy the recreational use of the land as much as we have."  The family has affectionately referred to the land as "Hundred Acre Wood," after land in the classic children's story Winnie-the-Pooh.
This is a wonderful natural area, with lots of evidence of its use and value to a variety of wildlife.  It will also be a great place for a series of walking trails, which we look forward to making available to the public.
Property on Wight's Pond, Penobscot
The Trust's new property includes approximately 18 wooded acres and over 1,100 feet of shore frontage.
This frontage includes a freshwater meadow that is productive habitat for various bird, mammal, and fish species, including dozens of waterfowl and wading bird species.
The land was purchased from a local family who had owned the property for decades but who needed to sell the land to meet other family needs. Thanks to their cooperation, we were able to arrange a transaction that worked for them as well as our Trust.
Long and narrow, Wight Pond has a shoreline that is almost completely undeveloped and has the feel of a remote pond. It has high wildlife value due to the diversity of wetland types present in the area, the intact riparian habitat and its location within a large unfragmented habitat block. At the north end of the Pond, where our new property is located, an expansive marsh grades into a forested floodplain along McCaslin Stream, one of the Pond's major freshwater sources.  The Pond, in turn, is a major freshwater source for the Bagaduce River.
Over time we plan to create walking trails on these conservation properties that will highlight their natural values. For the time being, a paddle up Wight Pond from the small access point at the Pond's southern end is the best way to experience this remarkable place.
Easement on King Hill Farm
A conservation easement was signed by the owners that will protect the rich agricultural resources of one of the Blue Hill Peninsula's flagship organic farms.  This easement, part donation and part purchase, is one element in a farm ownership succession plan that will aid the process of transferring the farm to the next generation of farmers. Thanks again to Ron King, Dennis King, and Jo Barrett, for adding King Hill Farm to the growing list of farms protected through our Farmland Forever Program, and to the Maine's Future Program and Maine Farmland Trust for their financial assistance.
A recent bequest: the Peterson Property
A new property was acquired by the Trust in a bequest from Louis Peterson.  The parcel helps link the Emerton Heath, a large wetland in Surry (shown on the right), with our other conservation lands at the head of Morgan Bay.  Completed this fall.